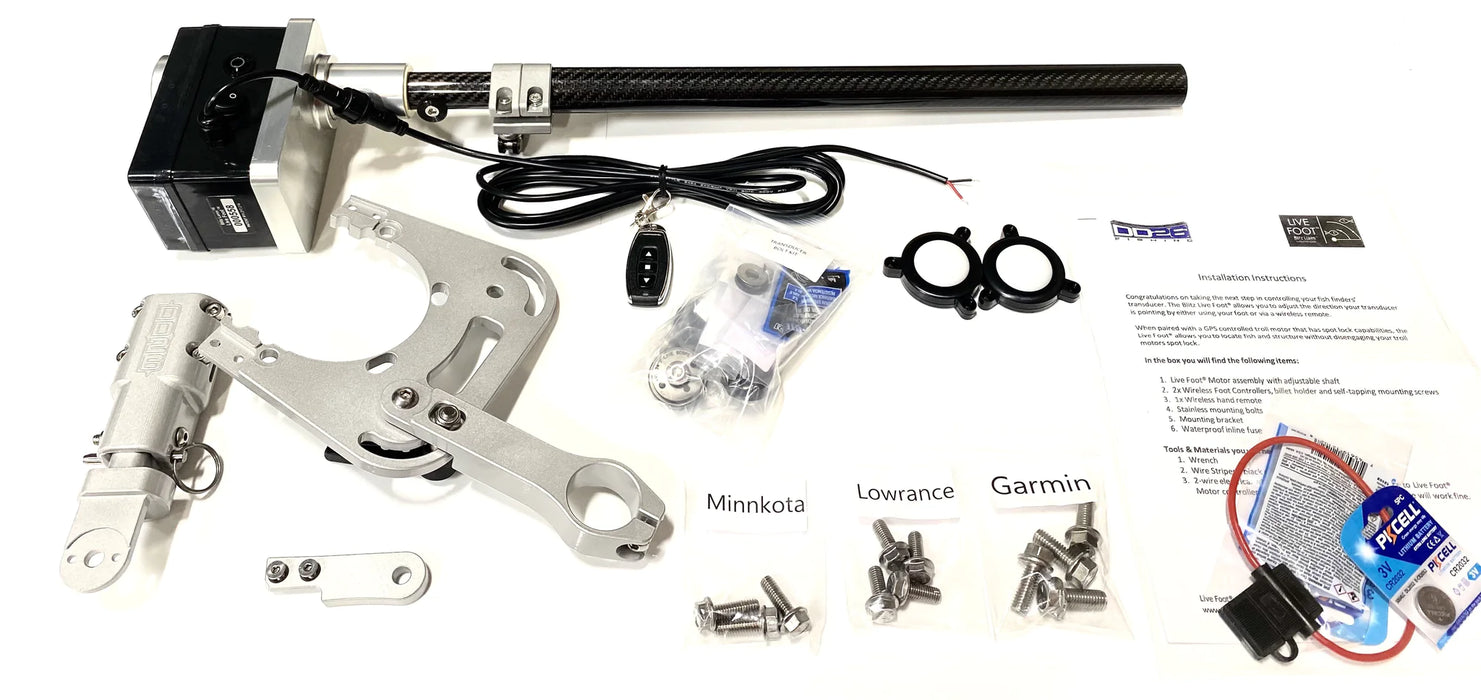 Live Foot™
Original price
$ 1,249.99
-
Original price
$ 1,249.99
YOU ASKED WE UPGRADED, AGAIN!!  NEW FEATURES INCLUDE:

NEW Adjustable Mounting Bracket fits Ultrex, Force and Ghost all with ONE bracket!
NEW Adjustable Position Trolling Motor Mount with Option for HB360 (360 Arm Kit purchased separately)!
4 Position Mount that allows you to position the Live Foot where YOU want!
NEW Carbon Fiber Shaft!

NEW Water Proof Foot Switches!
Comes with a DD26 Billet Transducer Mount that fits Mega Live, Garmin LVS32 & LVS34 and Lowrance Active Target transducers all in one rock solid mount!
DD26 Billet Aluminum Slider Bracket allowing easy length adjustment and as durable as it could possibly be! 
Extended Power Cord!
Fully removable shaft!
ONLY WEIGHS 7LBS!
You have a 4 foot pole with a 2-3 pound $1200+ transducer hanging on it above your $2000+ graphs, BE SMART and get a DD26 Stabilizer Bracket and protect your equipment!
Comes with a DD26 Fishing Universal Billet Transducer Mount that fits Garmin LVS32 & LVS34, Lowrance Active Target and Humminbird Mega Live!  This mount is unlike any other allowing quick transitions between Foward, Down and Scout/Perspective Modes!  It only weighs 12 ounces yet built like a tank!!
DD26 Fishing is proud to support the distribution of this product including sales and customer service for Blitz Lures regarding the Live Foot™ products!
Keep your eye on the fish no matter what the conditions are!
Control your forward looking sonar while still allow your trolling motor to be on spot lock!  
If you are using the 360 as well, please look for the HB360 Arm Kit and add that to your cart!
The key feature of this patented invention is the ability to control where your transducer is looking even when you have your trolling motor on spot lock or pointed in a different direction. You can do this with your foot via wireless remote foot switches or the key fab remote. This works great with your Garmin™ Panoptix, Humminbird Mega Live and Lowrance Active Target transducers.
The Live Foot™ runs off your 12 volt battery, drawing less than 1amp, and utilizes a high torque motor, ridged carbon fiber tubing, high grade aluminum mount with adjustable length.  If you are running a specialized graph harness, it's suggested to wire the Live Foot directly to your power source separate from that harness to minimize any possible interference.
The mount will ship with a 18 inch to 19 inch main shaft and the extension shaft will be an additional 18 inches. This is measured from the mounting holes on bottom of the main body of the troll motor.  Combined length using the DD26 Tranducer Bracket can be up to 43" which give you clearance for your prop.
Wireless foot switches take 2 CR2032 Batteries each.
We highly recommend a stabilizer of some sort for the end of the turret shaft while in rough water or trailering   
Product comes with a 1 year warranty.